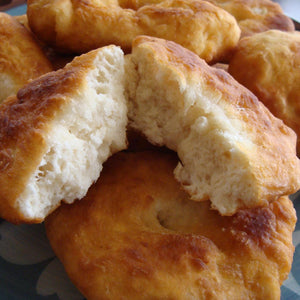 BINESHII TRADITIONAL AWARD WINNING (ORIGINAL) CHIPPEWA FRY-BREAD MIX. MAKES 8-10 PIECES PER 12 OZ. PACKAGE.
BINESHII
Just add water and fry!

Make 8-10 pieces of delicious, fluffy, golden brown Fry-bread.

Each package mix is 12 oz.

Our bread mixes are all natural using natures ingredients.

Complete cooking directions and serving suggestions.
DIRECTIONS

Pour mix in medium bowl. Add ¾ cup and 2 T. warm water. Mix well. Dough will be sticky. Move dough to lightly floured board. Knead 6-8 times. Cover with towel and let rest for 15-20 min. Fill 10" fry pan almost ½ full with cooking oil. Heat the oil to hot but not smoking. Break off dough golf ball size. Gently flatten dough on floured plate to ¼" thick. Poke a hole through the center. (For even cooking) Carefully drop into oil 3-4 pieces at a time. Cook to golden brown and turn. Keep an eye on it as it cooks fast. Remove to paper towel. Enjoy!
Indian tacos: Use fry bread as tortilla and top with your favorite taco fillings.
Chippewa dogs: Roll franks in flattened dough. Seal edges with a little water and fry in oil.
Ingredients: flour, nonfat dry milk, sugar, baking powder, salt,